"Lasting friendships do not always depend upon long periods of comradeship. The sacrifices, trials and sufferings in the white hot crucible of the Bulge created friendships which will last as long as two men of the Division still survive."
... The CUB, Vol 3, No. 1, August 1946...
---
Final CUB!!
As we mentioned in the last CUB, to help with our expenses, we sent letters to 204 addresses where we believe the recipient is deceased. We stated that if no response was received, we would remove that address from our mailing list.
Approximately 60 people responded, thus we will be deleting about 140 addresses before the next issue is printed. If you failed to respond, but still want the CUB (either printed or via email), please send your info to membership@106thinfdivassn.org
---
---
Virtual Memorial Service Video AVAILABLE NOW!!!!!

---
---
Herb Sheaner -- 422/G (posted Dec. 5, 2019)

---
Sgt. Russell Lang -- 423/I (posted May. 7, 2018)

---
Lt. Donald B. Prell -- 422 Inf. AT Company (posted Apr. 19, 2018)

---
Frank J. Grasberger -- 424/G (posted Jan. 29, 2017)

---
Calvin W. Shifley -- 106th Recon. (posted Jan. 29, 2017)

---
Arlos L. Awalt (424) Interview conducted Jul. 13, 2007

Arlos L. Awalt (424) Interview conducted Oct. 17, 2012
---
Robert Pope: How I Survived World War II (posted Dec. 20, 2016)

---
Russian Women Tank Drivers Liberate Stalag IV-B picture and article with Barney Mayrsohn (posted Oct. 25, 2016)

---
News coverage of George P. Mangiaracina, by grandson, Michael Mangiaracina

---
Herb Sheaner honored at Dallas Stars Hockey Game, March 12, 2016

---

Attempting to create a combined index to all names and places found in all of the CUB publications.
Click here for more info.
---
Michigan Mini-Reunion held on December 13, 2014
Photos courtesy of Alan D. Twisselman

---
Herb & Mike Sheaner attend the Flag of Friendship Ceremony
December 14-15, 2014

---
Pictures from The 2014 Flag of Friendship Ceremonies
held Sunday, December 14th from 10:00 am - 6:00 pm
in St. Vith & Vielsalm (Rencheux)
---
Restoration of the 424th Monument at Spineux, Belgium

---
Disposition of Capt. Russel A. Freas, 423/SVC
---
Rememberance of PFC Vincent Joseph Byrnes, 423/SVC
---
The 68th Annual Reunion was held in Norfolk, Virginia, Sept. 3-7
Click here to see photos of the veterans (with names & units) and photos from the excursions
---
Upcoming Events:
It is time to start planning your mini-reunions! Anyone can do it - grab a lunch or dinner with on old buddy, or make a new friend! I can provide you with a list of names of the veterans in your area. Click this link to contact me.
Also, please share any stories or pictures from your mini-reunion.
---
---
Photo's from Battlefield tour conducted in May, 2014 from Doug Mitchell

---
Herb & Mike Sheaner Attend Flag of Friendship Ceremony in the towns of St. Vith and Vielsalm, December 14-15, 2013
---
106th Infantry Division Challenge Coins are now available. Click here for ordering info.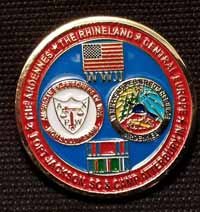 ---
These pages are intended to provide our visitors with information concerning the 106th Infantry Division Association, schedules of upcoming events, links to existing resources regarding the 106th I.D., information on how you can support the Association and other items of general interest.
The Association, founded in August, 1945 at Camp Luck Strike, St. Valerie-en-Caux, France, is the official organization that supports the veterans, families and friends of the 106th Infantry Division.
---
Interesting Reading
As we started gathering information to share with the veterans and the people who have a new-found interest in the history of the 106th, we started reviewing old issues of "The CUB". As a start, here are some articles that may provide more insight into the formation of the 106th. Updates will be made as often as possible.
A History of the 106th Under General Jones' Command - A brief history of the formation of the 106th Infantry Division.
The Agony Grapevine - With 416 dead, 1,246 wounded, 7,001 missing in action -- but no word from the War Department -- concerned relatives mounted an effort to gather and share information.
What Happened to the 422 Before and After- On the 25th of September 1945 Lt. Col. Joseph C. Matthews, formerly Regimental Executive Officer addressed a memorandum to former members of the 422 summarizing what had happened during the Bulge and after.
THE 423 IN THE BULGE - By Colonel Charles C. "Moe" Cavender Commanding
---
Work In Progress