George P. Mangiaracina, U.S. Army
(Submitted by grandson, Michael Mangiaracina on Apr. 29, 2016)
Silent Hero
My name is Michael Mangiaracina, grandson of George P. Mangiaracina.
Link to CBS News weekday story: Kenosha Family of WWII POW Gets Unexpected Insight Into War Time
Link to Sunday Morning news clip (Dropbox): CBS News Clip of George P. Mangiaracina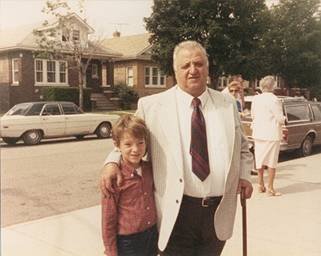 George (Grandpa) was a medic in the 106th Infantry Division (422D). Shortly after returning from the war he met my Grandmother Mary. It was love at first site and they married soon after. Decades of wedded bliss went by resulting in 5 children whom were eventually followed up by many grandchildren & great grandchildren. In all this time Grandpa very rarely spoke of his war experiences.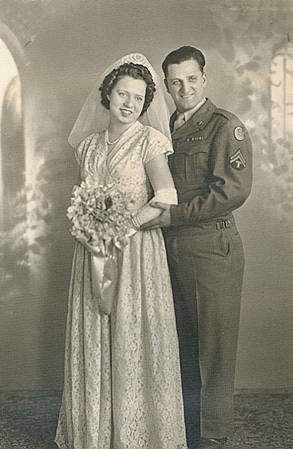 In fact, Grandpa almost never even received the medals awarded to him.  His daughter discovered that men from his unit who fought in the Battle of the Bulge had been awarded several medals, including the Bronze Star.  In 1985 my Aunt asked Grandpa if she could write to her congressman requesting his medals.  Grandpa reluctantly agreed. Months later George was finally recognized for his actions in WWII when he received his medals at an award ceremony at Chanute Air Force Base in Illinois. However, even after receiving his medals, George never really opened up about his experiences. Grandpa passed away in 1990 without ever sharing his story.
Fast-forward to 2005... I was a Police Officer with the Libertyville, IL Police Department with a proud Grandmother. Grandma decided to give me my Grandfathers medals and I was completely honored by her graciousness. At the same time I was puzzled on what experiences he went through to earn them. I began to question the entire family and researching anything and everything I possibly could. I was quickly able to find the 106th Infantry Division Association and joined immediately. I even wrote a letter which was published in a previous edition. I was able to educate the family in more details on what Grandpa generally went through, but with all of this information I was finding, I still had a very big void not knowing exactly what Grandpa went through. I knew my Grandfather was a silent hero and I wanted to honor him as much as I possibly could.


Fast-forward another 10 years to a day in August 2015...
On a beautiful summery day I would receive a phone call from my excited, yet nervous Grandmother.

The reason for all of the nervous excitement was because she had just received a phone call from a man (Retired Deputy Sheriff Pat Fahey) from South Dakota who was claiming to have met a man who said he was a close buddy of Grandpa.  Fahey advised Grandma that this man said he had served with Grandpa in the Battle of the Bulge. Pat also said some very compelling things to Grandma and she wasn't sure what to make of it. She was not sure if it could be some sort of fraud or someone who really knew her husband. I told her I would call to verify the legitimacy. It did not take long to realize this man legitimately knew my Grandfather. I called Grandma back and confirmed it was true and said we have to find a way to go and meet this man. I knew this would be a once in a lifetime opportunity to fill the voids of Grandpa's war story that the family had. With the great idea from another one of George's Daughters, the idea of a gofundme page was thought of. Donations quickly came in to pay for Grandma's airfare and hotel. The entire family was completely excited and nervous at the same time.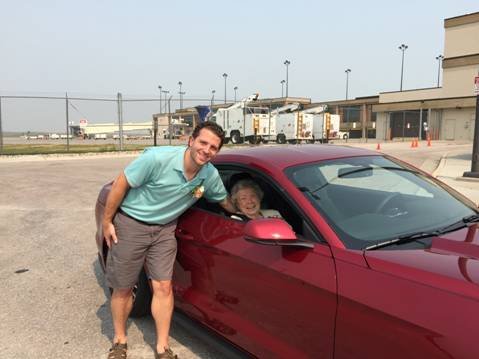 In August of 2015 Grandma and I flew to South Dakota to meet Grandpa's buddy, Junior Anderson & the man responsible for the reunion - Pat Fahey. We spent the weekend with Junior and the Fahey family. In speaking with Pat he told us that he recently met Junior and wanted to do something nice for him.  Junior said he had been searching the last 70 years for a buddy whom he served with in the war and would appreciate it if Pat could help him locate his friend.  Pat told Junior he would do his best and he did just that.  He used his vast knowledge of Police experience and discovered that his friend George had passed away in 1992 but was able to track down his wife (Grandma). It was at this point they reached out to Grandma and the reunion was set into motion.


I knew this trip was a blessing and that we were able to fill the void Junior had in his life along with the void that Grandma and our family had. The trip turned out to be one of my greatest life experiences and even more special to Grandma.  The trip was filled with laughter and tears.  In speaking with Junior I felt like I was speaking with my Grandfather.  Pat was able to find video footage on the internet of the day the men were liberated from Stalig IXB.  He was watching the video while I spoke with Junior about that day and discovered a 3 second clip of Grandpa, up close, smiling and smoking a cigarette!  Words cannot express what was going through our minds & hearts.  What a blessing!  After 70 years meeting Grandpa's friend and finding video of the day he was rescued!!  We left South Dakota with wonderful new stories of Grandpa and a lot to share with the family.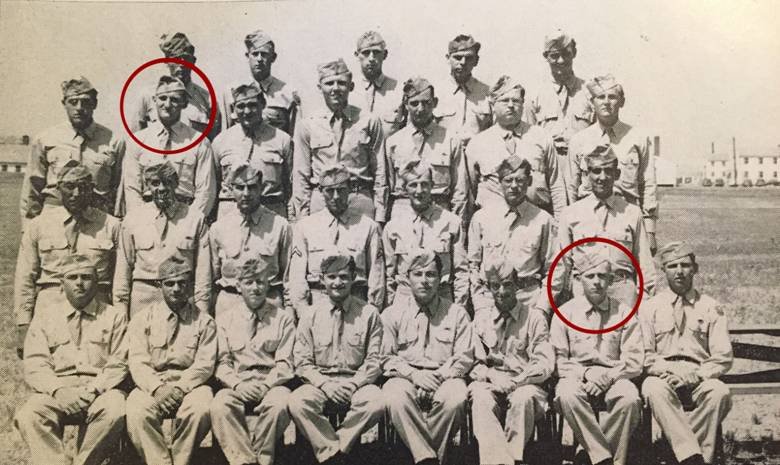 Just when we thought our adventure was over I received an email from the Executive Producer of the CBS58 news in Milwaukee Wisconsin. Apparently the producer found our FoFundMe page and thought it was a great story. He contacted me and asked if my Grandmother and I would be willing to do an interview for him. I said absolutely as long as Grandmother was okay with it. When I told Grandma she was beside herself with excitement and agreed. We were interviewed by a wonderful reporter and the executive producer decided to run our story initially on the weekday morning news but then also in more length on the Sunday morning news. CBS58 did an absolute wonderful job of putting this story together.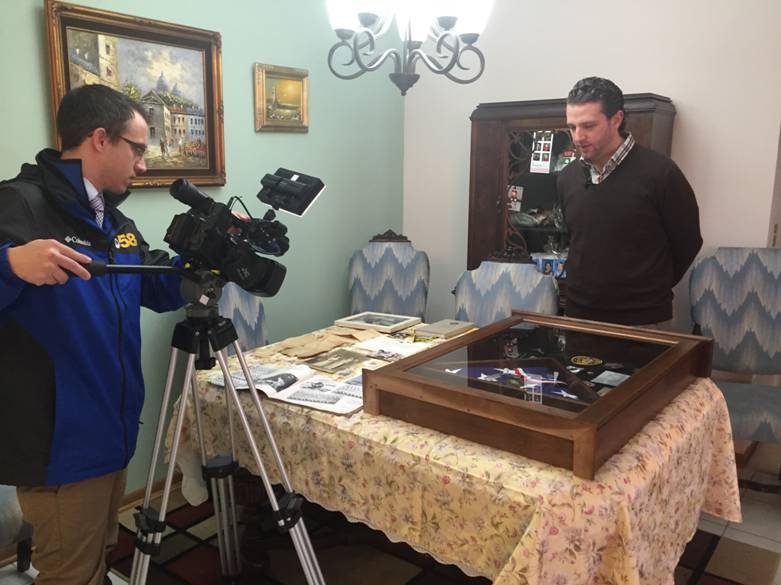 The whole experience was an absolute blessing and words cannot express the feeling of satisfaction I have being able to be part of this reunion.
I want to personally thank every member of the 106th Infantry Division. You are all Hero's and I only wish my generation had half the courage yours did. I've learned of many of the experiences you went through and my heart mourns for you.  Thank you from the bottom of my heart and God Bless all of you.
My only request to all of you is that you share your stories with your families.  Please do not let your history fade away.  Your history is what shaped your families and this Nation.  Be proud of that and know America loves you and appreciates what you've done.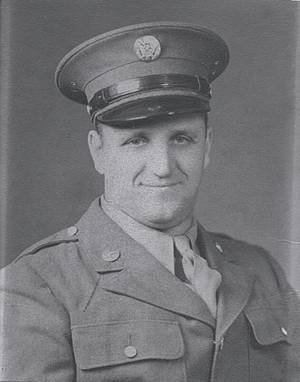 Thank you.
Kind regards,
Michael Mangiaracina
mikemang44@gmail.com
If anyone recognizes my Grandfather or served in the 422D and has pictures or stories to share please email me as I continue to look for more information. Thank you.