Herb & Mike Sheaner attend
Flag of Friendship Ceremony in the towns of St. Vith and Rencheux
December 14-15, 2014

L-R: Barney Maynard 423/C, David Bailey 422/F, Herb Sheaner 422/G, Dick Lockhart 423/AT
---
On December 14, 2014, four veterans of the 106th Infantry Division, Barney Maynard 423/C, David Bailey 422/F, Herb Sheaner 422/G and Dick Lockhart 423/AT returned to St.Vith and nearby Rencheux to participate in the 3rd annual Flag of Friendship ceremonies. Our thanks go to friends Carl Wouters, Doug Mitchell and Eddy Lamberty for their meticulous planning and execution of the day long events that included formal ceremonies and receptions in both towns along with a convoy of vintage WWII vehicles and lunch at the Biermuseum in Rodt. Their generosity, hospitality and total devotion to preserving the history of the 106th truly honors all veterans.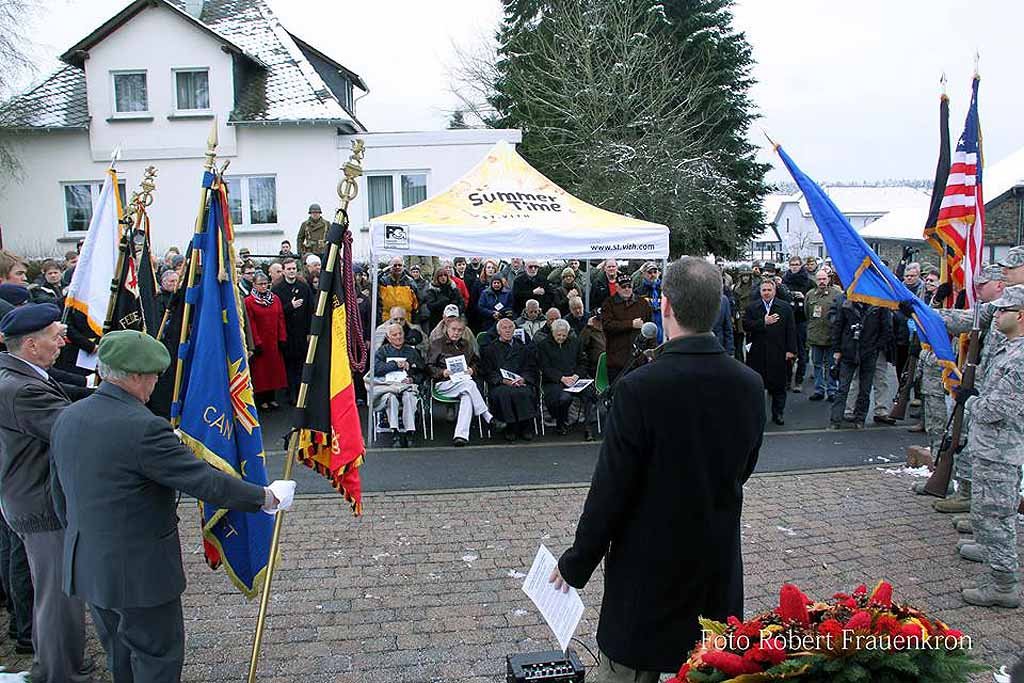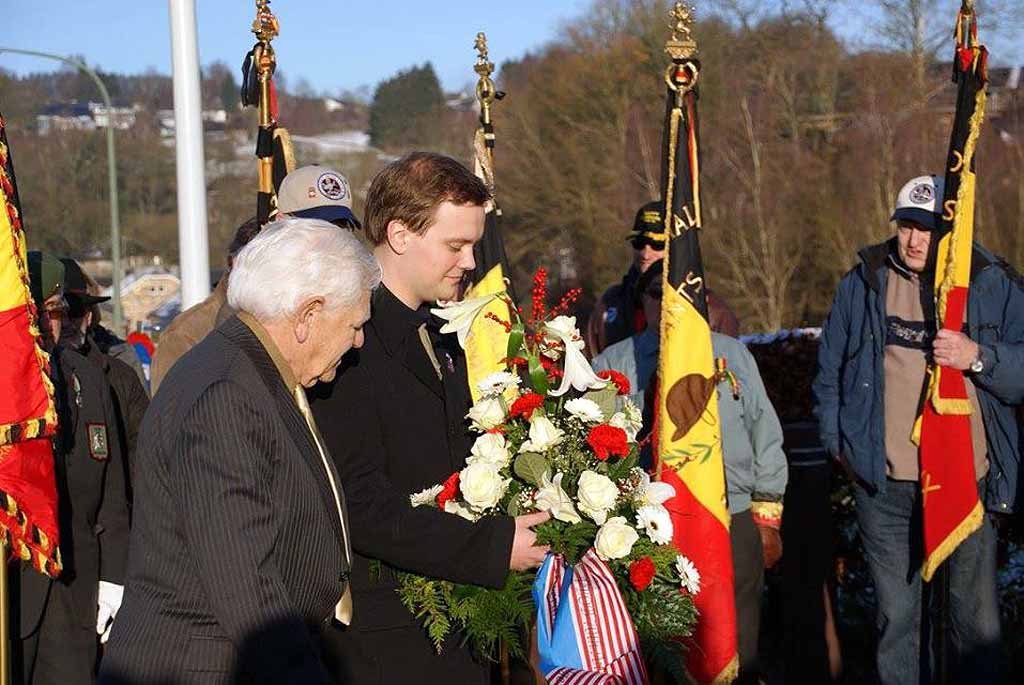 ---
A full week of activities with the broader aim of commemorating the 70th Anniversary of the Battle of the Bulge began the day before in Bastogne where each veteran was personally greeted by King Philippe and Queen Mathilde of Belgium. The King and Queen's thanks and appreciation for America and her veterans who sacrificed so much 70 years ago was genuine and sincere; sentiments shared by every Belgian and Luxembourger we met.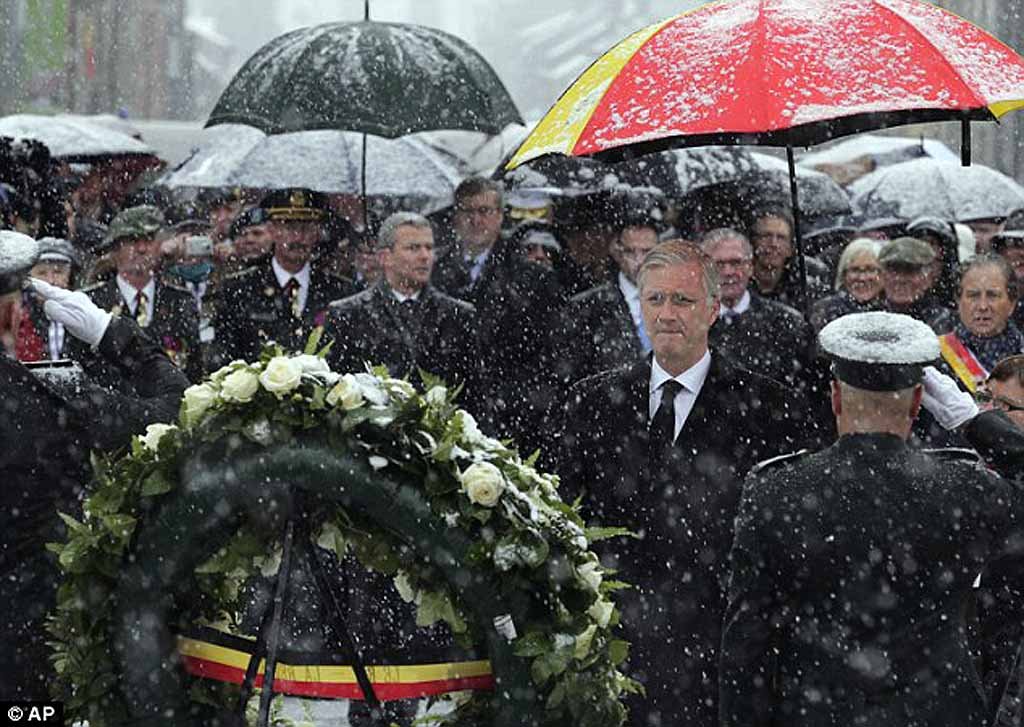 ---
Following the day long events of the Flag of Friendship ceremony on Sunday, our friend Doug accompanied Barney (423/C) and David (422/F) along with other Veterans of the Battle of the Bulge (VBOB) to their scheduled stops in Belgium and Luxembourg while Carl guided Herb (422/G) and Dick (423/AT) on a personal tour of the St.Vith region.
Monday morning began with Herb, son Mike, Dick and son David joining Carl and our new friend Freddy Theissen, owner/chef of Hotel Steinewieher, on a journey to the past where a group of dedicated re-enactors had set up an encampment of the 106th Division on the Prümerberg ridge. This area had been valiantly defended by the 168th engineers in defense of St. Vith. The re-enactors spared no detail down to appropriately marked vehicles, fully operational field kitchen, command post, fox holes and culminated in a 15 minute live battle.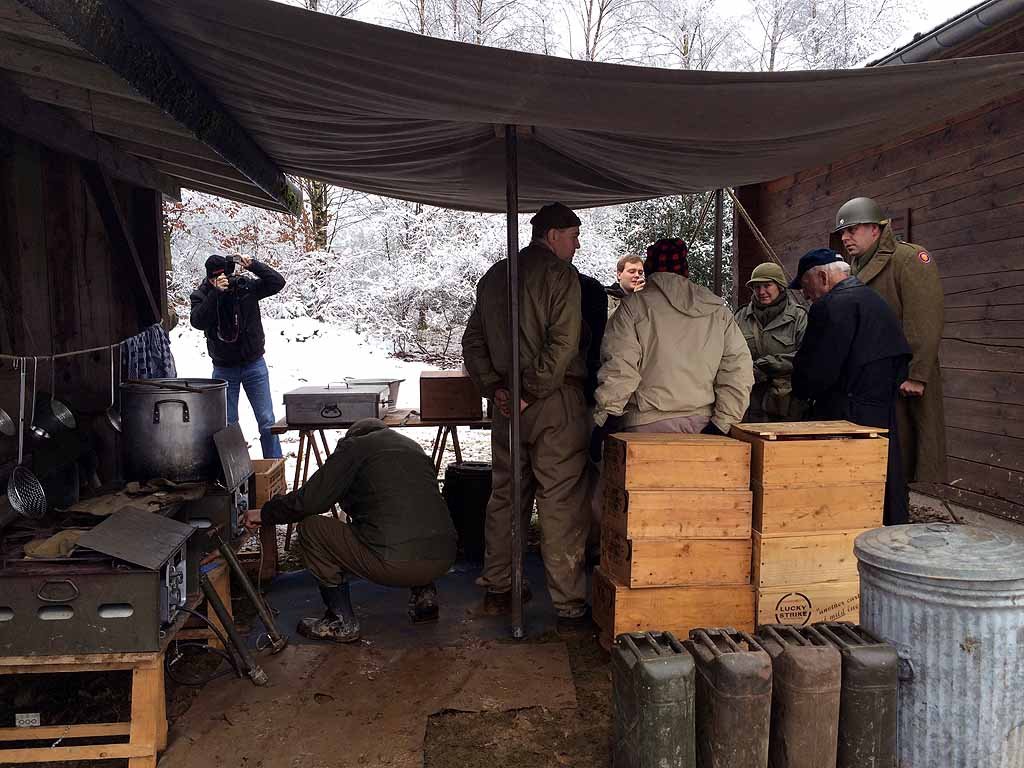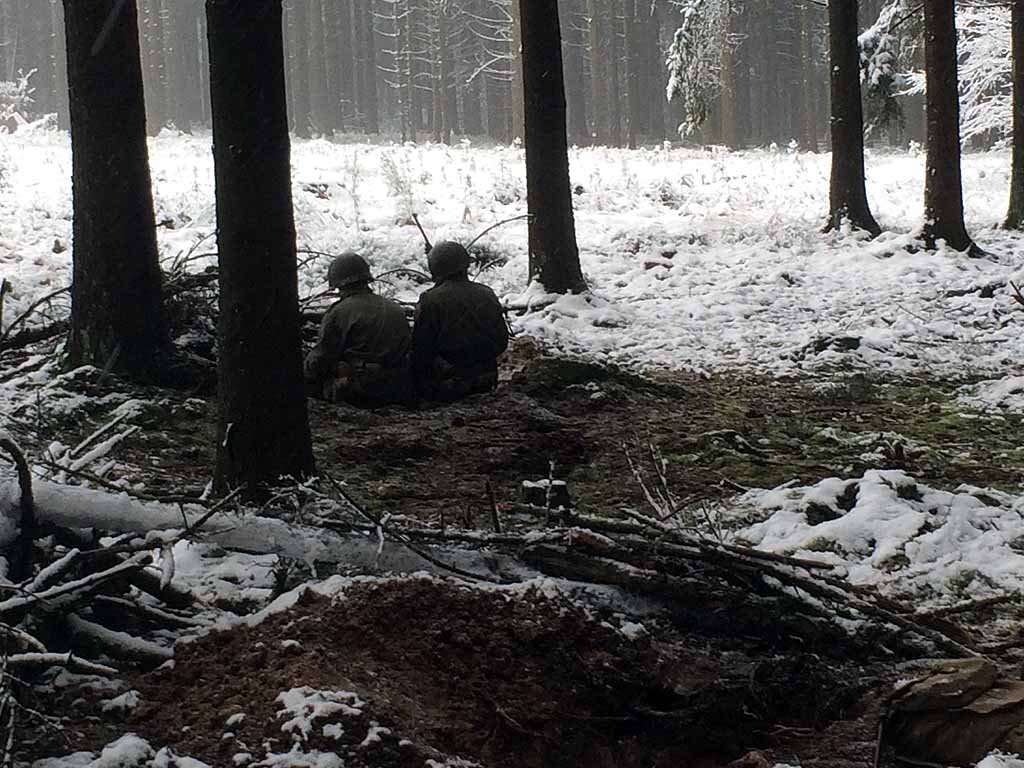 ---
After being interviewed by a journalist from the Stars and Stripes, we returned to St. Vith where we said farewell to Freddy and continued our trek to two interesting museums in the small towns of Ennal and Joubiéval, Belgium. Ennal was of particular interest because of the intense fighting encountered here by the 424th regiment who liberated the town on January 15, 1945. Herb and Dick laid a wreath at the new monument dedicated to the 424th during a ceremony before rejoining the VBOB group in Luxembourg.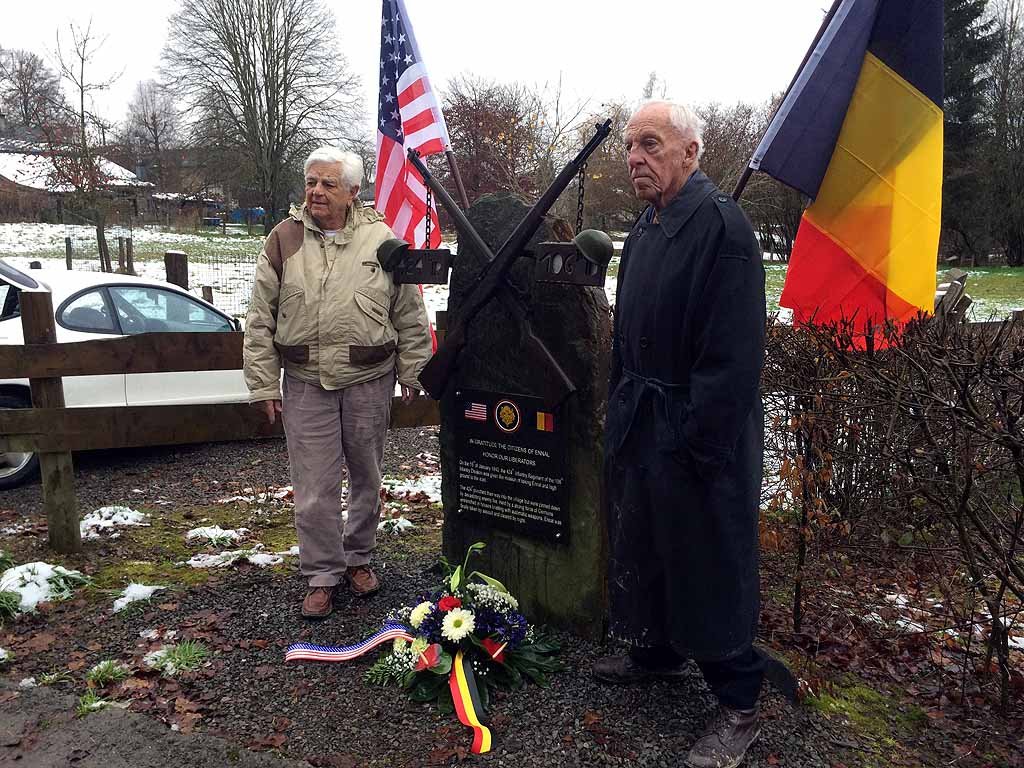 ---
With each trip to Europe we meet new friends who have their own stories and personal ties to the events of 1944-1945 that have been so etched into our memories. This time was no exception as we met Freddy Theissen and his mother, Annie, during our stay at the Hotel Steinewieher in St. Vith. On January 25, 1945, at the age of 10, Annie's image was captured by a Life Magazine photographer on the streets of St. Vith as she crowded around a horse drawn cart full of loaves of bread supplied by the US Army to starving citizens who remained in the ruined village of St. Vith. As we listened to Annie describe the scene we realized that although the official Flag of Friendship ceremony began just three years ago, the seeds of friendship were sown many years ago.
---
The week's activities culminated in Luxembourg with a series of events including a personal audience with HRH the Grand Duke of Luxembourg at the Grand Ducal Palace, official ceremony at the Luxembourg American Military Cemetery, ceremony at the Luxembourg National Liberation Monument, Schumann's Eck and dinner at the Grand Hotel Mercure provided by the Luxembourg Government with musical arrangement by the Luxembourg Military Band.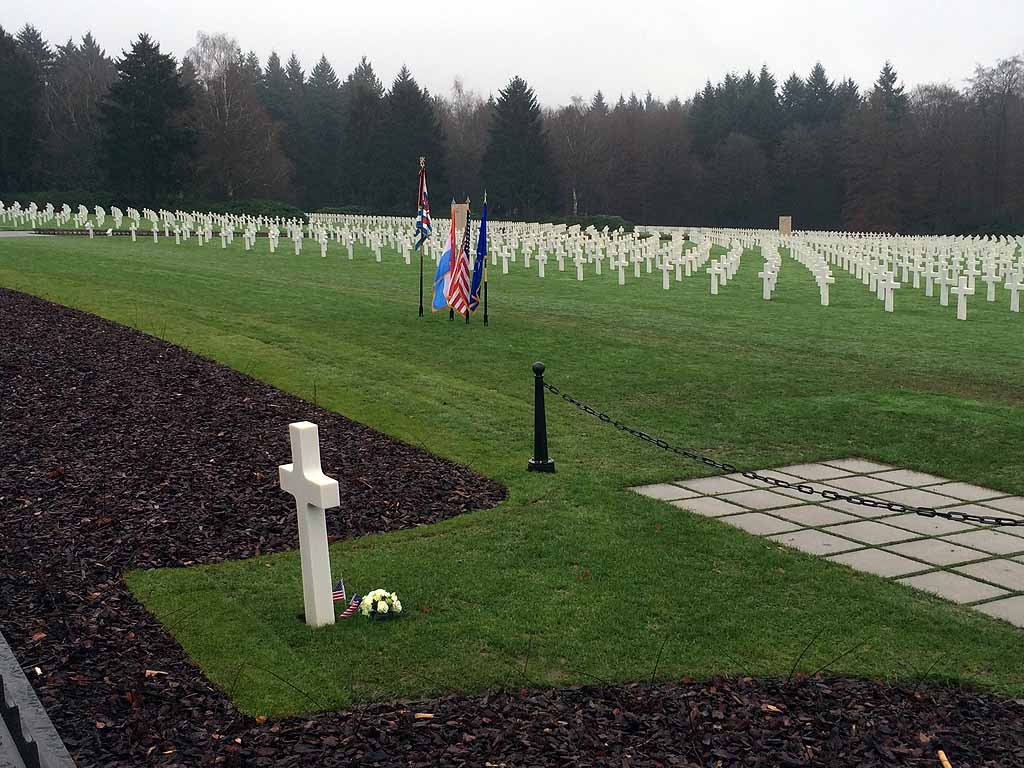 ---
Once again we cannot thank enough our friends Carl Wouters and Doug Mitchell who among their other responsibilities, are also organizers of the Bulge Chapter of the 106th Infantry Division. Together with others in Belgium, Luxembourg and Netherlands, they are dedicated to preserving the memory and legacy of the 106th Infantry Division.
Photo Album: https://normandy70thanniversary2014.shutterfly.com/pictures/3614

---